Primo Payroll has been directly integrated with Collegia, the UK's first personal, workplace and Auto Enrolment pension, all rolled into one!With this direct integration, Primo Payroll can upload the pension contributions and get the pension data communicated across to Collegia in an instant, without the need of any intervention from the employer. All the auto-enrolment related activities are taken care of automatically by Primo Payroll.
Collegia Pension
Collegia provides unparalleled flexibility and portability for employees, with zero cost for employers. The Collegia app gives employees control over their pension, shows how their investments are performing, what type of living standards they are on track for – and how it can be improved, in a simple and intuitive way.
Investment & Governance
In keeping with prevailing attitudes and the concerns of society, Collegia is sustainability-focused and invests employees' money in companies that are highly rated for environmental sustainability, relationships with stakeholders, attitudes to human rights, supply chain labour standards and the countering of bribery. Controversial industries, such as civilian guns and coal, are avoided or their exposure minimised.
Collegia has partnered with the Money Manager AllianceBernstein to make sure that members have a pension that reflects their personal values – via positive ESG screening and negative ethical screening of controversial industries.
Collegia is FCA regulated, all investments are 100% FSCS protected, client money is completely ring-fenced and, in the unlikely scenario of bankruptcy, members and their pension pots are simply transferred to a different pension administrator.
Fully Automated AE Processes
Pension scheme sign-up
Payroll configuration
Assessment and categorization
Employee communication
Contribution calculation & submission
Data transfer to and from pension scheme
Opt-out requests
Opt-out refund processing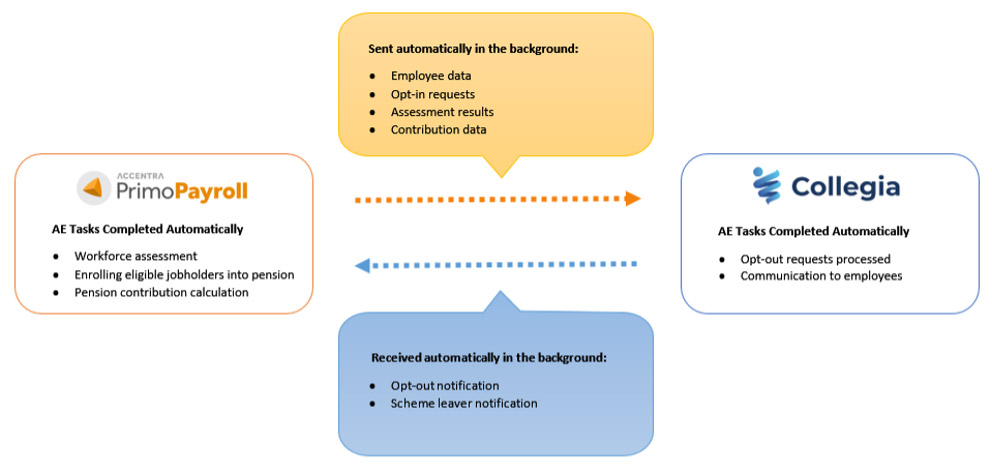 Benefits
Fully automated from sign-up to submissions, with zero manual intervention
Instant bulk sign-up direct from Primo Payroll to Pension Scheme
Once signed-up, compliance tasks are completed automatically in the background, with no manual intervention required
Instant and automatic data transfer between payroll and pension systems
All compliance activities performed automatically in the background
Multi-company compliance tracker screen across your entire client base, leaving nothing to remember or do!
Support
Unlike the other payroll-pension provider integration in the UK, where the pension queries are dealt by the pension provider and the payroll queries are dealt by the payroll provider separately, the Primo Payroll – Collegia integration allows its employers to deal with all their queries in one place.
A single ticketing system will be available for support on both Payroll and Pension related queries. Also, a dedicated helpline number will be available if the employer opts to speak to a support staff. The employers can either create a ticket by sending an email to collegia.payroll@accentra.co.uk or ring us on the dedicated helpline number.
How much extra does it cost?
Nothing.
Click here to visit Collegia website.