A single automated interface with support for multiple pension providers
The biggest challenge to Auto Enrolment compliance – the amount and frequency of data transfer between payroll and pension systems – gets even more complex for large payroll bureau businesses with the possibility of employers choosing different pension providers. Users of bureau companies not only have to deal with the archaic and error-prone CSV methods but also have to deal with multiple pension platform interfaces.
Our solution, powered by PensionSync, solves this problem and much more besides. You can let your clients choose their preferred pension provider without having to worry about the intricacies of how each pension platform works. Sign your clients up to pension schemes right from Primo Payroll and once signed-up let the system take care of most of the routine payroll tasks.
Fully Automated AE Processes
Assessment and categorization
Employee communication
Contribution calculations
Data transfer to and from pension scheme
Opt-out and opt-in requests
Opt-out refund processing
Semi-Automatic Processes
Pension scheme sign-up (semi auto)
Payroll configuration (semi auto)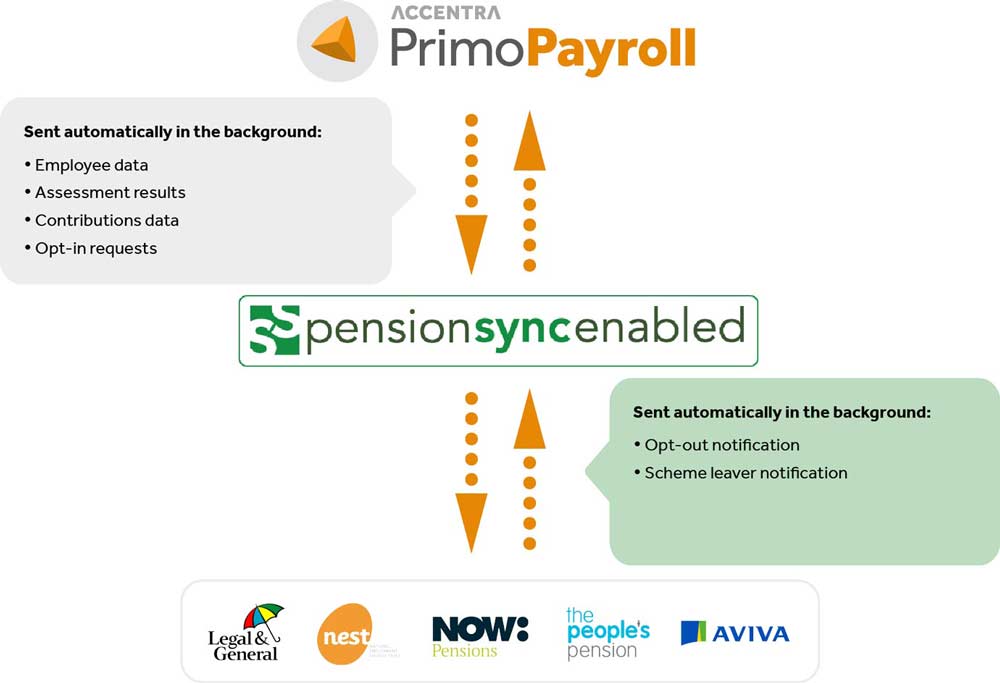 Benefits
Support for multiple pension providers from a single interface
Once signed-up, compliance tasks are completed automatically in the background – with little or no manual intervention required.
Automatic background data transfer between payroll and pension systems – you no longer have to do this manually
Multi-company compliance tracker screen across your entire client base, which leaves nothing to remember or do
How much does this cost?
Primo Payroll: No additional fee to pay
PensionSync: Please check with PensionSync for the monthly charges.
Pension Provider: Please check with the relevant pension provider