A perfect solution borne of a flawless Partnership
Our fully automated AE solution is made possible through partnering with Smart Pension to create an end-to-end solution for Bureaus and Accountants that delivers huge time savings right from the sign-up. With these two powerful digital platforms working together in the background, you will have practically nothing to do.
Smart Pension is a free Auto-Enrolment pension provider that has a 5-star Defaqto rating as well as being MAF accredited with Legal & General underlying funds.
The huge time-savings and your peace-of-mind comes at no extra cost!
Fully Automated AE Processes
Pension scheme sign-up
Payroll configuration
Assessment and categorization
Employee communication
Contribution calculations
Data transfer to and from pension scheme
Opt-out and opt-in requests
Opt-out refund processing
Manual/Semi-Automatic Processes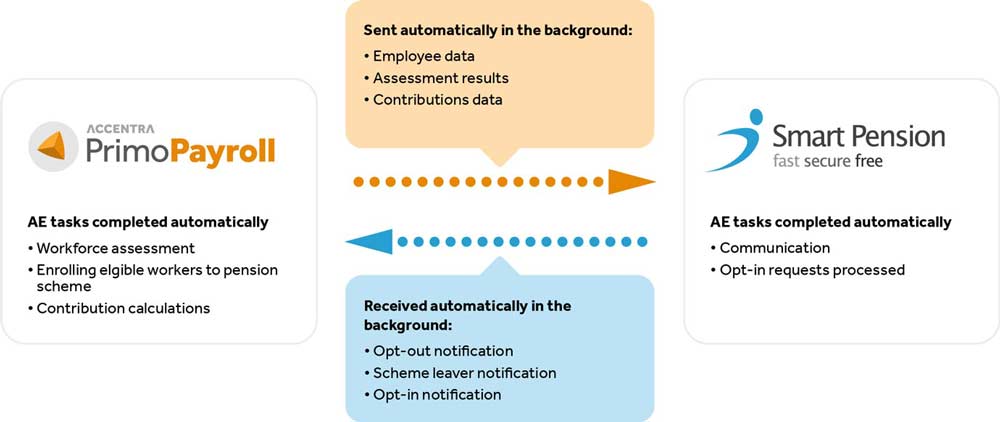 Benefits
Fully automated from sign-up to submissions, with zero manual intervention
Instant bulk sign-up direct from Primo Payroll to Pension Scheme
Once signed-up, compliance tasks are completed automatically in the background, with no manual intervention required
Instant and automatic data transfer between payroll and pension systems
All compliance activities performed automatically in the background
Multi-company compliance tracker screen across your entire client base, leaving nothing to remember or do!
How much extra does it cost?
Smart Pension may charge a monthly fee.
Visit the Smart Pension website